"Excellence is not an exception, it is a prevailing attitude." Wembley Stadium, London (Galaxytechnospace.com) The night of Wrath, Italy nipped its first high-profile title for 15 years with a penalty hit to confirm Itlay a prominent winner over England in the "Euro 2020 final," Luke Shaw's goal anticipates England Team. It kept the hope higher as they would sustain its position till night long. However, suddenly all the bubbles got burst when Leonardo Bonucci brought as auspicious moments of joy for Italy, named Euro cup.
The rising sentiments of the spectators
The match was at the pinnacle of its suspension, as the match to remain perpetual. Neither side looks willing or courageous enough to play being an attacker but defenders. as a matter of fact this had oft happened with England which suffered the consequences for its bad luck numerous of time.
"When defeat comes, accept it as a signal that your plans are not sound, rebuild those plans, and set sail once more toward your coveted goal" Over the years England faces heartbreaks on penalties, and this time it was Italy's turn to add into the pain of beleaguered English fans as Marcus Rashford, Jadon Sancho and Bukayo Saka all run away during the wild Italian celebrations, "Bonucci" — who had been hit the big time earned the man of the match Award" — Rose a voice "All goes to Rome" left no stone unturned in the desperation of English fans.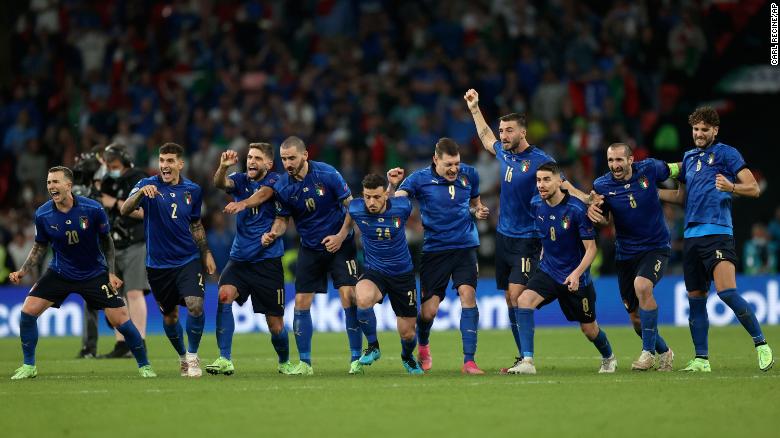 Itlay team held the Victory against England has made history. England's to recall the sweet memories of 1966, but all gone in vain. Now after all the Qatar-hosted World cup will decide on England's fortune.
A sudden fluke of fortune turns Italian's destiny
In the meanwhile, they have to go through this heartwrenching pain. Back in 2018, Few would have expected Italy, Even they did not make it to World Cup prior to Euro 2020, hardly win the entire competition, but Roberto Mancini's side swiftly organized itself as one of the best contenders after three consecutive thrilling group stage performances. "Gianluigi Donnarumma," Italy's lion in the penalty kick with two standouts, was pressingly owned the tournament and the goalkeeper who proudly met the level of high rising satisfaction setting the history for future. "As for England, this defeat is likely a grim prospect for the nation, the nation who have been waiting for the last five decades to have such auspicious day.
Restlessness
Wembley Way, it was yet early the people pooled around England's national stadium, there was plenty of time before kick-off. As most of the fans yet halted purchasing tickets. They prefer to soak in the environment around chit-chatting and the scent of the sweet breezing of Wembly. Some brought hard drinks. Some of the fans stocked beer in one of the grocery stores closest to Wembley Stadium. swarms of fans at once buzzing around buying stuff. "It had been 55 long years since England was last in a major international final and fans to have known only heartache and disappointment since that World Cup triumph in 1966."
The living memories of 1966
England's fans this time to recall the era of 1966, came with the overwhelming ambition of celebration of the Victory of English. but it well said "Opportunity often comes in disguised in the form of misfortune, or temporary defeat. "Even when cheering on "Golden Generations" of the past, England fans 1st time supported his team this way. Southgate on its way up "For by superior energies; more strict affiance in each other; faith more firm in their unhallowed principles, the bad have fairly earned a victory over the weak, the vacillating, inconsistent good." In fact, they rewarded non expect sheer disappointments.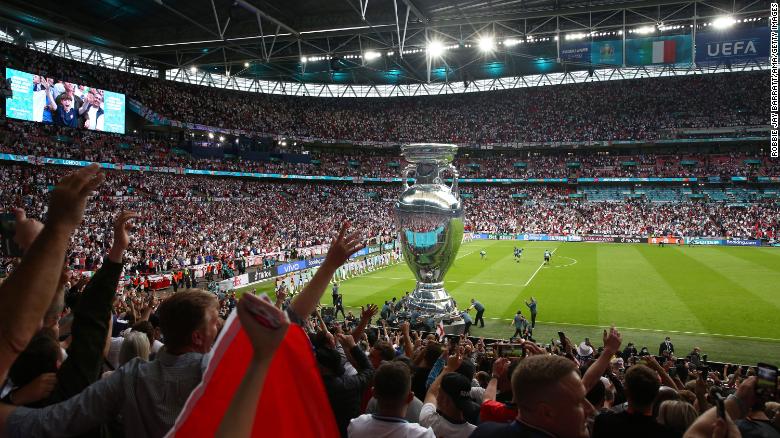 Wembley before kick-off. Stars begin to using platforms to speak out on social issues. when turn took place to Rashford's go against the stream of a child being bread liner. he said "I think the secret to the success of this team is that the people in charge of the England team," He said I remember being at the 2010 World Cup, and England avoided interventions with common people, treating them like rock stars, unlike others. I remember going down to the harbor in South Africa and the Dutch were in the deep hobnob. I think this regime who are looking after the team, realize that it's important just to let the players be players, let them be men who people can connect with. be given free hand to keep up with diversity beyond any discrimination. "Everyone wants to be a part of this England because they identify with "They care about their communities" Common streets to be the part of their lives.
The pent up England
On the defeat England fans socked in deep sorrows, tears with pent-up emotions, However, Italians did show their supports on various Media platforms. It is well said "Before success comes in any man's life, he's sure to meet with much temporary defeat and, perhaps some failures. When defeat overtakes a man, the easiest and the most logical thing to do is to quit. That's exactly what the majority of men do. We wish the best of luck to England for Qatar hosted World Cup.